TRANSFORMING THE ELECTRONICS SUPPLY CHAIN
Lytica delivers transformational products merging artificial intelligence and the electronics supply chain for cost, security of supply and compliance solutions.
At our core is knowledge.
Lytica applies its expertise and intellectual property to increase your productivity and profitability; transforming your electronics supply chain with game-changing artificial intelligence applications.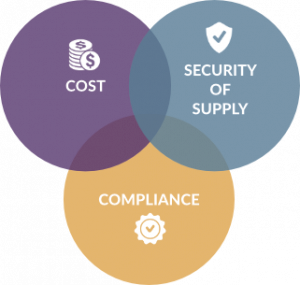 VALUE CREATION
Strive to create tangible value in every interaction we have with customers, employees and others with whom we interact.
INTEGRITY
Operate with high standards for honesty and truthfulness and can be counted on to act responsibly and reliably in everything we do.
INNOVATION
Recognized leader in bringing forward innovative ideas and concepts as well as introducing industry changing products to our market.
PURPOSE
Challenge the status quo and bring transparency to the electronics supply chain.

IHS and Lytica partner on electronic component benchmarking solutions to help companies reduce cost of electronic parts.
Read more

Lytica's unique differentiator 'Bradley's Law' is acknowledged and promoted through the Amazon Alexa Intelligent Personal Assistant.
Lytica works with industry leading companies globally to help them improve their supply chain performance. We respect and maintain the confidentiality of our clients and their information. We operate in all market segments using electronic components.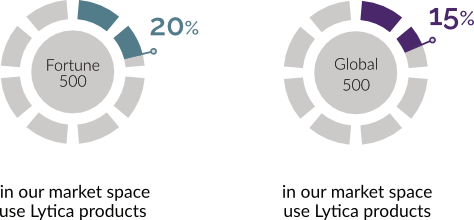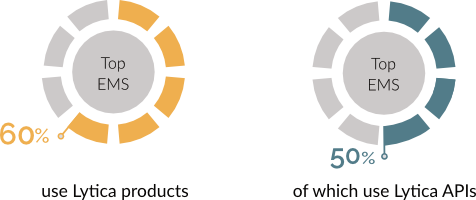 CLIENTS BY VERTICAL MARKET
Lytica clients come from all vertical markets using e-components. Our data is structured to provide a market vertical analysis and recommendations appropriate for your company. As new product segments emerge such as autonomous vehicles, renewable energy and IoT devices our A.I. systems enable us to build and maintain appropriate reference data for your application.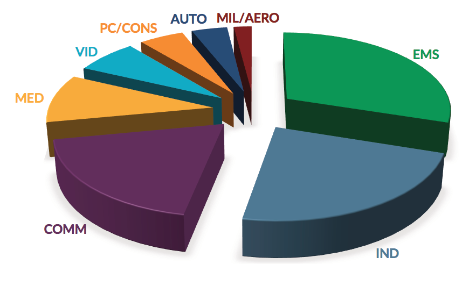 SIZE OF LYTICA CLIENTS (REV $USD)
Lytica deals with many of the largest and smallest electronics companies around the world. We have, within our portfolio, products that work across the whole range of company sizes as well as unique targeted solutions that fit your company size.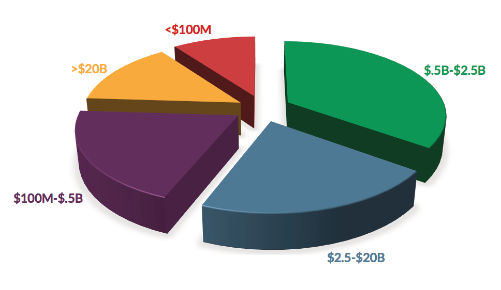 MARK TAYLES – PRESIDENT & CEO
Mark has extensive experience across the entire supply side of the electronic device ecosystem: Semiconductor Manufacturer, Distributor; and Representative. An Electrical Engineer, Mark joined Intel Ottawa as a customer field engineer. He then joined component distributor Avnet as their Ottawa branch manager. His tenure at Avnet included a post to corporate headquarters and 12 years as a regional vice president. During this time, Mark was active working with Canadian manufacturing firms including 2 years as Vision Chair of the HPM (High Performance Manufacturing) Consortium – a LEAN manufacturing accelerator.
In 2005, Mark founded EnablerTech – a Canadian company representing manufacturers of niche and custom components and supply chain tools. Mark joined Lytica Inc. in 2013 as VP of Sales & Marketing, before becoming President and Chief Executive Officer in 2015.
KEN BRADLEY – CHAIRMAN & CTO
Ken Bradley is well recognized as an industry-leading expert in supply management, operations and procurement. Ken has held several executive positions in a number of industry-leading telecommunications and semiconductor companies including Nortel Networks (CPO), Guangdong Nortel Telecommunications Joint Venture (President), Nortel Semiconductor Components (VP &GM) (Canada and USA), CoreSim Inc (CEO), Bell Northern Research (Director of Technology) and American Microsystems (Engineer).
Ken served as a member of the Board of Directors SynQor Inc of Boston, MA from 2003 until 2014 and as a member of the Board of Directors for Radisys Corporation of Portland, OR from 2003 until 2011 and Powerwave Inc. of Anaheim California.
Ken is the founder, Chairman and Chief Technology Officer of Lytica Inc. He is also Chairman of Silecta Inc, a supply chain services company.
DR. SHAHZAD KHAN – CRO
A serial entrepreneur, with a PhD in computer science from Cambridge University (UK), Dr. Khan is responsible for setting research direction and defining the core technologies required for Lytica's product roadmap. He has 22 years of experience in artificial intelligence (AI), machine learning and computational linguistics. He has authored more than 20 research papers and holds five patents. His latest venture – Gnowit – has been focused on AI consulting and real-time media, industry and government intelligence applications. Shahzad has been working with Lytica since March 2017 and joined us full time in April 2018 as Lytica's Chief Research Officer.
THOUGHT LEADERSHIP
We are excited by the potential of our thought leadership site scmroundtable.com to bring supply chain professionals together in a dialog on solutions to today's topics of concern. It is our hope that the SCM Roundtable will enable the sharing of knowledge amongst our visitors and that you will be an active reader and contributor. Feel free to use, distribute and challenge the content on this site.
Discover our latest thinking and the thoughts of our industrial colleagues.